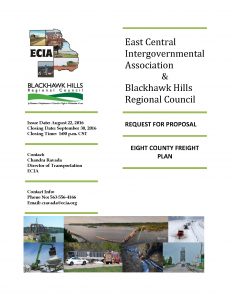 Together, Blackhawk Hills Regional Council and the East Central Intergovernmental Association (ECIA) have issued a request for proposals for a multi-modal freight study of specified counties in northwest Illinois and east central Iowa.
Any questions about the RFP may be directed to Chandra Ravada (cravada [at] ecia.org or 563-556-4166), Director of Transportation, ECIA.
Proposals are due on or before 9:00 a.m. CST, September 30, 2016.
Eight-County Freight Study RFP: PDF