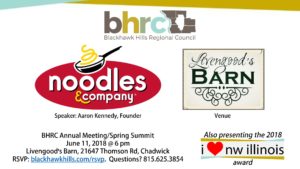 Blackhawk Hills Regional Council (BHRC) is pleased to provide notice of the following event:
WHAT: BHRC Annual Meeting/Spring Summit
WHERE: Livengood's Barn, 21647 Thomson Rd, Chadwick
WHEN: June 11, 2018 @ 6 pm (registration starts at 5:30 pm)
DETAILS: Aaron Kennedy, Noodles and Company founder and Northwest Illinois native, will speak on entrepreneurship and other topics.
The cost is $30/person, which includes dinner. Please RSVP by June 4 at www.blackhawkhills.com/rsvp. If you have any questions or issues RSVPing, please contact us at 815.625.3854.